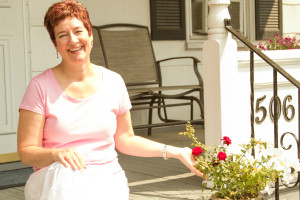 Renee Takacs, MA, is an Intuitive Consultant and Animal Communicator who blends her intuitive insights and telepathic skills with distance energy work to advance personal growth.
Since childhood Renee has had awareness of loved ones in spirit, exhibited intuitive abilities, awareness of psychic and spiritual dimensions, experienced precognition and precognitive dreams.
One of her earliest experiences occurred in the middle of the night when she was about seven years old. She witnessed a woman appear to her in spirit form. The next day her mom showed Renee the family photo album, and she immediately recognized the woman.  The woman was her Grandma Irene, who had died many years before Renee was born.  Given Renee's early experiences she had a compelling desire to understand life beyond the five senses.
Education
Master's degree in Transpersonal Studies, Atlantic University, Virginia Beach, VA . Transpersonal psychology is a school of psychology that integrates the spiritual and transcendent aspects of the human experience with the framework of modern psychology. It is defined as a "spiritual psychology."
In 1995, by invitation from Jeffrey Mishlove of the Intuition Network and PBS's "Thinking Allowed" series, Renee presented her Master's thesis at the International Intuition Conference in Denver, Colorado: The Role of An Intuitive Consultant With Decision Making at the Business Level.
Bachelor's degree in Business Administration, Robert Morris University, Pittsburgh, PA.
Additional studies:  Yoga in the lineage of Swami Gitananda, MD of India and Swami Rama of the Himalayan Institute; CranioSacral Therapy; Reiki; Therapeutic Touch; Aikido; intuitive development classes from the Association for Research and Enlightenment, Lily Dale New York and from personal mentors. Renee was a yoga instructor for twenty years. Her introduction to Edgar Cayce's work and his organization, the Association for Research and Enlightenment, helped to enhance her spiritual education and secure her spiritual values.
Media and Public Relations
Renee served on the psychic panel for the Association for Research and Enlightenment,Virginia Beach, VA.
TV, radio, newspapers and magazines have featured Renee's abilities.  Contributing writer to Pittsburgh Pet Connections, On a Wing and a Paw, 2012–2013.
Contributed to a book by Doug Knueven, DVM, Stand By Me:  A Holistic Handbook for Animals, Their People and the Lives They Share, 2003.
Animal Communication
To Renee's surprise, in 1996 she had her first experience communicating telepathically with a dog. She was leaving a client's home, after conducting Intuitive Consultations, when the hostess jokingly chuckled and said, "Next time you'll have to read for our dog!  It has issues!"
Immediately trusting an intuitive prompting, Renee plopped onto the floor and telepathically listened to the dog explain where it liked to sleep and learned that it was missing its bacon treat. When she shared the dog's thoughts with the hostess, the hostess's boyfriend, a skeptic, dropped his jaw and said, "We've had that bacon treat on our grocery list for six weeks now and everyone keeps forgetting to pick it up!" Word of mouth spread rapidly. Since that amazing moment, each conversation Renee has with an animal friend fills her heart with gratitude, joy, reverence and respect for all of life and for the spiritual connection we all share.